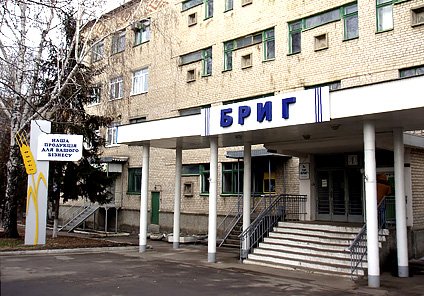 ALC "Brig" is a manufacturer of energy-saving equipment for drying grain, as well as equipment for its processing and cleaning. The enterprise is one of the main operators of Ukraine in the market of grain drying and grain processing equipment.
Having more than 45 years of general engineering experience, ALC "Brig", since 2006, is leading in Ukraine in the production of energy-saving grain drying complexes with heat generators on biomass. The main fuel of such complexes is baled straw, wood and woodworking wastes can be used as additional fuel, as well as husks of cereals. This allows you to save expensive energy sources (gas, diesel fuel). Such drying is environmentally friendly - there are no harmful emissions. Brig heat generators are completed with dryers of other manufacturers of different years of their production.
ALC "Brig" for about 20 years also produces sets of technological equipment for cereals for all types of cereals. The productivity of the groats workshop is calculated for the average processing industry.
The equipment has proved itself well with consumers in different regions of Ukraine and the CIS. They differ reliability, quality of groats according to GOST. The advantage of cereals for buckwheat in the implementation of the classic technology of cereal production, used at large groats.
By order of customers, ALC "Brig" produces both complete technological equipment and separate technological modules. To modernize the processing industries, we offer units for cleaning, sorting, transporting grain and cereals, and preparing seeds before sowing.
The production of ALC "Brig" is distinguished by its compact design, the aggregate principle of construction and ease of maintenance.
The main products of the enterprise are certified by the State Committee of Ukraine on technical regulation and consumer policy in the framework of the state certification system UkrSEPRO.
In ALC "Brig" you can get expert advice and help in selecting the equipment you need, our specialists will go to the place of installation for detailed examination and consultations for its installation, as well as, at the request of the customer, make installation and commissioning, launching kits and training your staff. The company provides service and warranty service.
For the entire period of the company's existence, highly qualified personnel have been formed, dozens of types of technically sophisticated competitive products have been developed and manufactured.
The enterprise has design and engineering, technological and service units, The material and technical base necessary for production of equipment, production and storage facilities.
Reliability of the equipment supplied is ensured by constant monitoring of components and equipment, both during assembly and installation, and during the warranty period.
The collective of ALC "Brig" sees its perspective in the constant improvement and modernization of products, the development of the release of new, according to the requirements of the market, the content of the won positions and their further expansion both in Ukraine and in other countries.